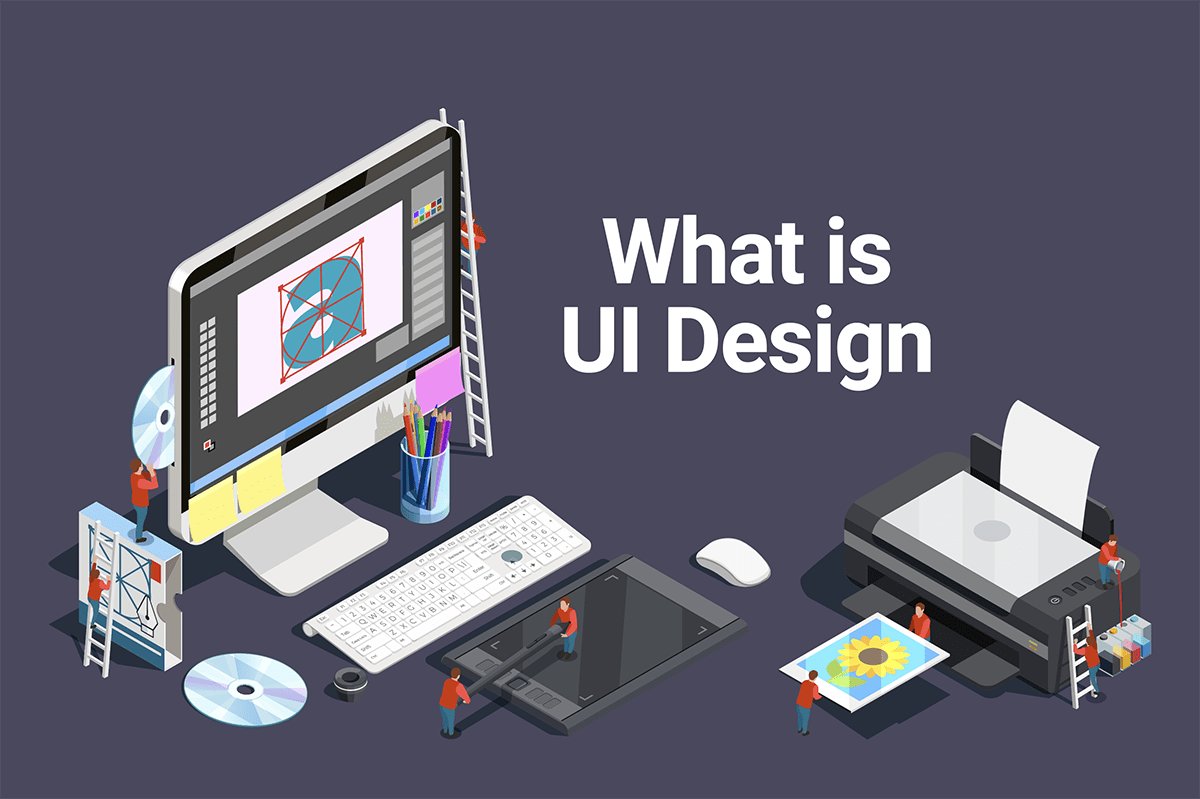 User interface (UI) design focuses on how users interact with a computerized system. A successful design anticipates what your target users might do as they interact with a website or mobile app. It sounds simple, but a well-designed UI requires integrating a diverse number of elements into an attractive and intuitive user interface.

Why Choose Us?
Advertising is visible only to potential customers, the target audience is controlled
Contextual advertising will allow you to identify the needs of the target audience
If the user follows the pay per click link, then the owner of the resource pays for each such transition
The launch of the advertising campaign takes place within 1-3 days
Why is a Good User Interface Important in Web Design?
We know that a good User Interface is important in the sense that it makes it easier for your target audience to see what your products are. It is designed in a way to display the services that you offer without ambiguity, to draw your visitors' attention, and keep them on your site.
Simply put, a good User Interface is important because it can turn potential visitors into buyers as it facilitates interactions between the user and your website or web application.
When you scratch beneath the surface you realize that UI is quite an intricate field that involves anticipating the user preferences and then creating an interface that understands and fulfills those preferences. The UI not only focuses on aesthetics but also maximizes responsiveness, efficiency, and accessibility of a website. It is professional web design because UI makes a difference. In other words, UI design will help improve the conversion rate on your website.
An interface is a point where users interact with the website they're using. UI is the main part of building an engaging website. A good User Interface Design presents a seamless blend of visual design, interaction design, and information architecture:
Visual design improves a site's ornamental value by strategically implementing elements such as fonts, colors, and images among other things. When professionally done, visual design makes a page elegant without compromising on its function or content.
The interactive design looks at how users interact with technology. It then uses the understanding of such interactions to create an interface with behaviors that are well-thought-out. Excellent interactive design not only anticipates how a person interacts with a system but also antedates and fixes problems in good time. It may also invent new ways through which a system interacts and responds to users.
Information architecture is designed to help users find the info they need to complete various tasks. It, therefore, involves labeling, structuring, and organizing the web content in a manner that makes it easily accessible and sustainable. Also, you need to know that information architecture affects the SEO performance of a site. When a digital agency provides real SEO services, SEO specialists focus on informational structure.
Also, UI is a very important part of mobile app design.
Is UI design still important for SEO in 2021? Over the past few years, Google and other search engines have made many changes to SERPs and introduced an updated algorithm that is based on the evaluation of UI and UX to gain more reliable and high-quality information.
5 Benefits of a Well-Designed User Interface Design
A successful UI design contributes to a positive user experience, which is a competitive advantage. The effort to provide a consumer-tailored interface may be a brand factor differentiator. In this way, it attracts new customers and consequently increases sales. Thus, the bet on user interface design can enhance business, maximizing revenue opportunities.
The development of an interface to better navigate and simplify research attracts not only new users but also makes them want to continue their digital experience. In this way, there is a lower probability of bounce and a higher conversion rate. A well-designed user interface encourages customer engagement, which leads to becoming more loyal to the brand. This is very important, since in the current digital environment, with increasing competition and rapid technological advancements, businesses must invest in customer retention strategies.
A well-planned design from the start avoids future problems. This includes any training needs and interfaces support, such as correcting navigation errors, eliminating non-relevant functions and features, or adjusting the design to be accessible and functional. All of this involves high costs. Thus, an intuitive and user-friendly interface benefits not only the users but also the business, as it causes fewer problems and frustrations to designers and avoids additional costs and features.
The projection of the user interface design, when done well, reduces costs, time, and effort throughout the later stages, which means that the strategic decisions taken at the start of the project determine the cost and performance in the future.
Usually, users express doubts or difficulties when navigating the interface. However, if the interface is intuitive, customer contact with the support service will be less frequent. This way, the company benefits by reducing costs in customer support. A simple and functional interface minimizes occurrences of errors, doubts, and unwanted actions in the navigation process, avoiding customer support costs.
Delivering the best user interface, coupled with cost savings and application of resources in what is essential, leads to improvements in productivity. This productivity is reflected in both the user and the brand. With a user-friendly interface and easy navigation, the user decreases search time and increases satisfaction, fulfilling his needs in a fast and efficient way. In turn, the brand increases sales volume improves customer loyalty and minimizes costs and resources.
Choosing Of User Interface Elements Design
Users expect an interface to work and behave in a particular way. When designing a UI, it's recommended that the interface is designed to be predictable, concise, and consistent. This improves its efficiency in completing tasks and ultimately reinforces user satisfaction.
Multiple elements constitute a functional UI. These may include:
Input controls such as buttons, toggles, and checkboxes among many others.
Navigation components e.g. breadcrumb, sliders, search fields, icons, etc.
Information components for example tooltips, notifications, message boxes, and progress bars among others.
Call to Action elements (see how to create a perfect Call to Action button).
Containers including the accordion.
When choosing what elements to include in a User Interface Design, it's always wise to consider your tradeoffs. An element may, for instance, save you some space but end up unnecessarily burdening the user and breaking the user experience.
UI Design Best Practices
Designing the perfect user interface comes from knowing the users as well as understanding their tendencies, preferences, skills, and goals.
Remember the following practices of a good User Interface Design.
Simple Interfaces are best- use clear language and avoid inessential elements.
Maintain Consistency by using common UI elements. Use elements that users are familiar with. This ensures things get done fast. It also guarantees user comfort and gratification.
Use smart, purposeful page layouts. Try to draw attention to the most important aspects of the website.
Colours and textures should be appropriately used to draw the attention of the user to a particular or given component.
Use the typeface to increase readability and legibility of the content
Use defaults to reduce the burden of the user where appropriate.
These are the best practice of UI design.
5 Mistakes to Avoid In UI Design
Not implementing a user-centered design: This part is easy to ignore whereas it is one of the important aspects of UI Design. When designing, you should keep in mind the needs, preferences,
Problems of the users. Avoiding doing so might harm your business and cause it to collapse.
Not Learning more about the target audience: Again, this point illustrates more what we just talk about. Instead of designing with your preferences and tastes, rather design as if you were the customer. Just think about what the customer would love, and if possible conduct a survey or interview some potential customers to truly understand what they need.
Excessive use of dynamic effects: Using too much animations effects is not synonymous with a great design. So avoiding excessive decorative animations can help optimize the user experience.
Not exploring further: the pressure of meeting the deadlines, and the heavy workload can make the designer avoid exploring other possibilities to get inspired and more creative before they elaborate on their design plan.
Crafting too much beforehand. Especially in the early stage of design, we just want to have the right picture of the design in our minds and start work. However, this is conception is not always efficient. At times, exploring other sources can reveal to us some surprising things.
User Interface And The Customer Journey
Think of each page or screen as a destination in a customer's journey and ask yourself questions like:
What will users expect when they land on a page?
Are they looking for detailed information?
Or do they want to move on to the next page as quickly as possible?
If users are looking for detail, UI designers may increase the amount of white space, use fonts and colors to highlight essential content, or make navigation controls easier to locate. UI designers are concerned with how the page is used. UX designers are focused on how the page fits into the overall experience.
For example, a company wants people to provide contact information in exchange for content. UX designers know that many users will move away from the page if they encounter a problem. They communicate the likely user behavior to the UI designers. Their job is to make the page as simple and error-free as possible.
By working together, the UI and UX designers create a page that fits with the overall experience, minimizes the potential for error, and achieves the customer's goals. Why not talk to us about how our UI and UX designers can create a positive experience for your customers?