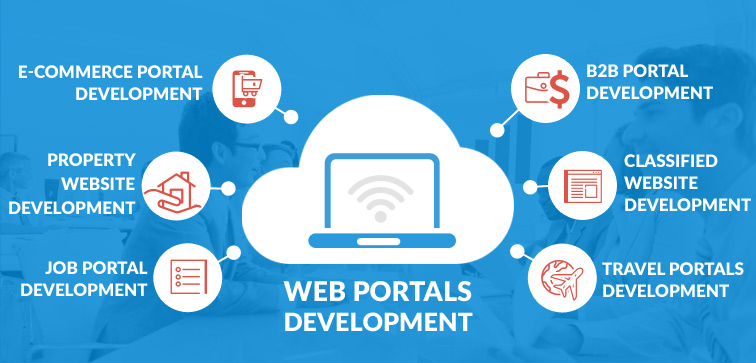 A web portal is a secure web-based platform that gives access to varied functionality and content via an easy-to-navigate interface. TechnoTronixs web portal development covers UX/UI design, web and mobile development, integrations, embedded analytics, testing, security, and continuous support.
Key Differences between Web Portals and Websites
| | |
| --- | --- |
| Web Portal | Website |
| Users can interact with the data on the page. | Static, informational (read-only) content. |
| Portals can have both anonymous public pages and pages that require authentication. | Authentication is not obligatory. |
| Real-time, highly personalized experiences. | One-size-fits-all attempts at personalization. |
| Multiple integrations with custom and third-party tools. | Rarely integrated with other systems, such as CRM, ERP, etc. |
| Frequent portal features updates and dynamic content changes. | |
Web Portals We Deliver
An established web portal development company, ScienceSoft can help you create a web portal of any type to cover specific needs in engaging with your audience, be it your customers, partners, or employees.
Customer Portals


Our technological solutions connect businesses with their customers through an extensive scope of features, including facilitated product and service discovery, ongoing multichannel communication, and secure transactions coupled with appealing UIs. We handle customer portal development to improve self-service metrics, reduce the overall cost of customer servicing, as well as ensure long-term customer loyalty.
B2B Portals
TechnoTronixs builds B2B portals that serve as secure hubs for enterprises and their partners to organize barrier-free cooperation through the right balance of features. B2B portal development is the way for companies to not only foster their business processes or streamline secured transactions but also establish fruitful partnerships based on transparent workflows and knowledge sharing.
Media Portals
TechnoTronixs offers media portal development for advanced content management and distribution. We provide our customers with suitable technological solutions to support new ways of digital traffic monetization, viewer engagement, and management of exponentially growing digital assets. We also combine it with powerful media analytics for data-driven decision-making.

Travel Portals
By going for travel portal development with TechnoTronixs, companies get a powerful medium to bring positive travel experiences to their customers and stand out in a competitive travel market. From must-have booking and billing capabilities to sophisticated AR and VR-enabled guided tours, we pack our solutions with features living up to the market demands and appealing to end-users.
E-Commerce Portals (B2C and B2B)
We assist companies with e-commerce portal development and launch multi-vendor marketplaces, trade portals, auctions, bidding platforms, e-commerce aggregators, and more custom solutions. We help our customers win the race with optimized user journeys, secure payment options, AR/VR, and AI-powered e-commerce features that drive shoppers' satisfaction and overall business growth.

Intranet Portals
Be it document-centric collaboration, project management, or networking of internal and external teams, Iflexion takes up intranet portal development to meet your specific collaboration needs. We build custom and platform-based portals from scratch taking into account both functional and financial considerations, as well as optimize and support deployed intranets throughout their lifecycle.
Vendor Portals
We build tailored portals for enterprises and their suppliers to enable collaborative supply chains, simplified accounting, and financial control, as well as complete visibility of vendors' performance. Through vendor portal development, we help companies set up easier vendor onboarding and management, which translates into more effective procurement and suppliers' self-sufficiency.

Self-Service portals
A self-service portal aggregates information on products, services, or corporate information and allows users to request information, activate / de-activate, and schedule services. The common types of service portals are customer self-service portals, employee self-service portals, and government service portals.
Customer portals:

A customer self-service portal offers information and resources to help customers request services, find information, and solve service/product-related problems. To get a clearer idea of customer portals, browse our sample B2B customer portal for a furniture manufacturer.
eLearning portals
An eLearning portal is a gateway that guides users to a variety of learning materials (including documents, videos, presentations, interactive training materials) and often sits on top of an LMS or an intranet. ScienceSoft creates learning portals for training providers and end customers, be they businesses or individual learners.
Community portals
A community portal helps people with similar interests to build collaborative relationships and exchange experiences and ideas. We build structured community portals with user-friendly interfaces and a rich array of social functionality, including chat, forums, blogs, events, media files support, and more.
Partner portals
A partner portal is a tool for businesses that sell via indirect sales channels to manage partner relations and encourage partners to sell more. Our experts build partner portals with comprehensive functionality – aggregated marketing and sales information, configurators, calculators, inventory, order status checking, learning and training, advanced analytics.
Enterprise Portal Development
This is the most excellent way to boost the productivity of workers through customization and personalization of quality, giving that safe atmosphere at the enterprise level to use again various components, reducing the difficulty, and introducing flawless incorporation and processing.
Classifieds Portal Development:
Classified marketing as you already know that it is a type of advertising which is most common in newspapers, periodicals, Example post free ads. Classified ads allocate for stuff to be grouped under particular headings construct it simple for buyers to look up items of interest. Classified Portal Development at the present becomes extremely popular for individuals looking for dirt low-cost deals, new jobs, and other kinds of events happening in their town. A classified website will let visitors hunt and place classified ads.